Choosing to undergo male breast removal is a major first step to living a more quality-filled life. The next step is to choose the best gyno surgeon who specializes in gyno surgery and treatment. Here is how to choose one best gyno surgeon such as Dr. Babak Moein of the Gynecomastia Center of Los Angeles.
What to Look for in a Gynecomastia Surgeon
You have many choices when it comes to choosing a cosmetic surgeon for gynecomastia surgery. Putting effort into finding the best gyno surgeon in & near Los Angeles will give you greater peace of mind. Ideally, you will look for the best gyno surgeon who exhibits the following qualities.
Experienced Cosmetic Surgeon
A cosmetic surgeon is like an artist with the patient's face or body being the medium. These specialists are tasked with improving your appearance in some way. In this case, you are looking for the best gyno surgeon who can mold your chest into one that appears more "normal" with your shirt off. Do not choose just any doctor if you hope for the most realistic results. You want an artisan and someone who takes pride in their work. An experienced doctor will give you those types of results.
In addition, conventional wisdom tells us that the more experience a surgeon has, the less risk of complications to the patient. Do not be afraid to ask about one's experience when considering one for gynecomastia surgery. While you are at it, ask about the doctor's track record, and if there are any patients willing to talk with you to discuss their excellent results.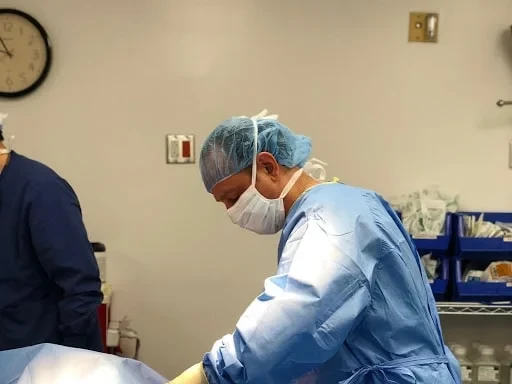 Look for the best gyno surgeon with an excellent track record in giving patients terrific results. Reading through testimonials and online reviews can give you a good indication of one's skill level. You can also determine if the best gyno surgeon has a good bedside manner and if the results that patients experience are within their expectations.
Specializes In Different Types of Gynecomastia
For the best results, look for the best gyno surgeon who specializes in your type of male breast growth. He/She should be familiar with the 7 types of gyno in order to provide you with the most accurate diagnosis. The best gyno surgeon for you will also have a range of gyno treatments available, such as liposuction and VASER Lipo.
When searching for the best gyno surgeon in Los Angeles to perform your gynecomastia surgery, do not just take the doctor's word for it. Search their website for before and after photographs that showcase the types of results you are after. Do you have male breast growth on only one side of your chest? The best gyno surgeon will have before and after photos that showcase that type of case, along with the model patient's post-surgery results with a much flatter chest.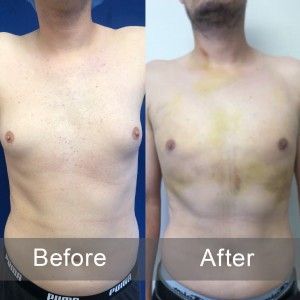 We Are A Dedicated Gynecomastia Surgical Center
Top gynecomastia surgeons have a dedicated center where they only treat male breast removal patients. When working with doctors like these, you know you are getting a skilled cosmetic and gynecomastia specialist. You also know the professional surgical staff working at those centers understand your problem and the distress you are experiencing.
Having male breast growth can be embarrassing. In some cases, you can feel tenderness or pain. Having medical professionals that you can turn to for support, and who can answer questions, is the first step to getting gynecomastia treatment. A dedicated clinic can give you peace of mind that you have come to the right place, and that your male breast removal is in excellent hands. If you are looking for a dedicated gynecomastia surgical center Call Us Now!
Your Ticket to a Gyno Free Life is a Phone Call Away
When you have decided to treat your male gyno, and you find yourself searching for a top doctor, you should call the Gynecomastia Center of Los Angeles. Dr. Babak Moein is the doctor you have been searching for. He has all the qualities you want in the ideal gynecomastia doctor.
Dr. Moein has over two decades of surgical experience. He has traveled all over the world treating patients and providing volunteer surgical treatments to less fortunate individuals, including children
Dr. Moein is the only surgeon in Southern California who is dually trained in both minimally invasive laparoscopic surgery and cosmetic body contouring surgery. These disciplines make him uniquely qualified to diagnose and treat male breast growth in teens and adults.
Dedicated Gynecomastia Treatment Center
If you are located in the Los Angeles area, call us to schedule a consultation with Dr. Moein, who has opened the center to provide relief for any teenagers and adult men who wish to have more normalized chests. Whether you have a mild or severe case, he and his surgical staff can give you the relief from the problem you crave.
Ready to Work With The Best Gyno Surgeon In & Near Los Angeles?
Now that you know how to find the best cosmetic surgeon for your gynecomastia treatment, it is time to call the best gyno surgeon in Los Angeles.
Dr. Moein offers virtual consultations for your safety and convenience. During this video conference with him, which is 100% confidential, you will be asked a series of questions related to your problem and medical history. If you are deemed a good candidate for surgery (or non-surgery), Dr. Moein will invite you to schedule an appointment at the Gynecomastia Center of Los Angeles. It is during this in-person meeting where you will receive a physical examination of the chest area. He can then prescribe one or more treatments for your type and severity of male gyno.
Depending on the type of gynecomastia you exhibit, you could qualify for liposuction, male breast removal surgery, VASER Liposuction, or Renuvion skin tightening treatment.
Call today to discuss a time that might be right for you. Just think; by this time next year, you could have a flatter chest that lets you take your shirt off whenever, without even thinking about it. Please fill the form below or call us now at +1-310-896-4043 to get started.