Every Gynecomastia surgery treatment plan is different. Your gynecomastia surgery will be based on your medical history and the procedure being performed.
To receive a treatment plan, you must first be assessed by a qualified doctor. The initial assessment includes a physical exam and a review of your health status and background. Only then can your doctor accurately diagnose your male breast growth. Depending on the type of gyno you have, he/she can then prescribe a customized treatment plan.
How Many Types of Gynecomastia Are There?
There are 7 main types of male breast growth:
Affects boys in puberty and men over age 65 (Gynecomastia in older men). The usual cause of this type of gyno is a decrease of the male hormone testosterone. The issue of excess breast growth may resolve on its own, but some men may not want to wait the two or so years it takes to disappear. For these men, gynecomastia surgery can offer relief.
Typically affects bodybuilders gynecomastia who excessively use anabolic steroids. While some instances of gyno can be treated with Liposuction and other fat-extraction methods, glandular gyno can only be corrected with man boob surgery In & Near Los Angeles.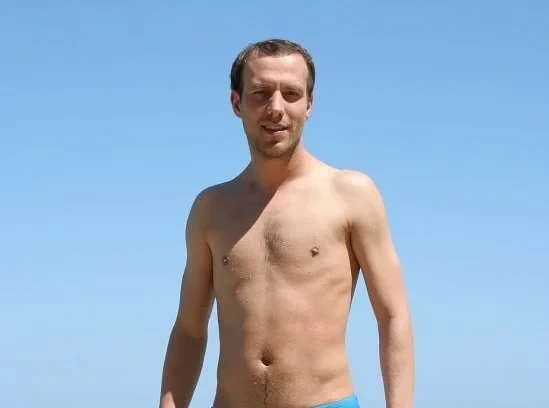 This is the diagnosis given to overweight men within the glandular tissue. Most men with gyno receive this diagnosis. A combination of liposuction and man boob surgery In & Near Los Angeles can resolve this issue. The result will be a flatter and more symmetrical chest area.
Gynecomastia in teens is a common occurrence of male breast tissue that affects around half of all pubescent boys. The growth of male breasts tends to run in the family, but the gyno can be corrected through both surgical and non-surgical means.
• Asymmetric Gynecomastia
It can occur on one side of the chest or both. Asymmetrical gynecomastia can make one side of the chest appear larger than the other one. A male mastectomy may be required to remove the breast tissue and restore the chest to more normalized conditions.
This is characterized by male breasts that are made up of fat. As in, some guys simply have more fat on their chests than other men. Gynecomastia treatment can still help with this condition. VASER Lipo and Renuvion with J-Plasma technology are 2 non-surgical methods that can treat male breasts caused by adipose tissue.
It is a condition that affects overweight, formerly overweight, and older men. These men have lost their skin elasticity, which can cause Gynecomastia in older men with skin on their chest area to droop and sag. Otherwise referred to as "Man Boobs" the condition can cause embarrassment even while wearing clothes. The recommended course of action is man boob surgery In & Near Los Angeles to remove the excess skin and fat. Dr. Moein is uniquely qualified to improve the appearance and symmetry of the chest through surgical means.
Which Type of Gyno Do You Have?
Which Type of Gyno Do You Have?
An initial consultation with Dr. Moein will allow him to accurately diagnose your type of gynecomastia. During the diagnosis assessment, your doctor will determine why your chest grew the excess tissue. He will look for certain signs, such as one side of the chest appearing larger than the other. Puffy nipples and hard or soft tissue under the skin around the chest area can also yield the vital information necessary for an accurate diagnosis.
Depending on the type of gyno you suffer from and whether your issue was caused by puberty, illicit drug use, age, or heredity, Dr. Moein will prescribe one of the following gynecomastia surgeries (or non-surgeries).
For men who want a more muscular chest in addition to a reversal of his gyno symptoms, Dr. Moein has a range of non-surgical methods at his disposal. VASER Liposuction, for example, uses sound resonance technology to break up the fat underneath the skin before it is sucked out through a tiny, plastic tube. VASER Lipo is a minimally invasive gynecomastia treatment that offers minimal scarring and less discomfort and downtime than other fat-eradicating procedures.
Male Breast Reduction Surgery
For men with glandular tissue that needs to be removed, and excess tissue that needs to be excised (cutaway), man boob surgery is usually the recommended treatment.
During this procedure, your doctor will remove the excess tissue before extracting the fatty tissue around the chest with liposuction.
In many cases, he can reshape and reposition the areola to create more symmetry.
If you feel lumps in your chest area, and suspect you have a glandular issue (as opposed to fat), a physical diagnosis by a qualified doctor is paramount. This is necessary to rule out other causes of excessive chest growth in men, such as tumors.
How Much Does Male Breast Reduction Surgery Cost?
The average cost of gynecomastia surgery is a little over $4,000. Other costs, such as anesthesia, surgical center fees, medical tests, post-surgery garments, and prescriptions can increase the costs. Liposuction costs around $3,500 on average while VASER Lipo costs around $6,500.
Your surgical costs will depend on the type of gynecomastia and the procedure. You can get an accurate quote for the gynecomastia procedure you want at the time of your diagnosis.
Treatment may not be covered by gynecomastia surgery insurance, but there are often cash discounts. Medical financing with CareCredit and Prosper Healthcare Lending is another option that can cover the cost of your treatment.
How Do You Know if You Need Gyno Surgery?
If having male breasts causes you embarrassment or discomfort, that is reason enough to schedule a consultation with gynecomastia doctors. Imagine being able to take your shirt off without thinking twice about it. Picture yourself wearing your favorite kinds of clothes without your male breasts showing through your shirts and tops.
If you experience discomfort around your chest area, such as lumps that hurt or puffy nipples that rub against your clothes and become overly sensitive, Dr. Moein can help.
At the very least, a gynecomastia assessment can rule out other causes of male breast growth, such as illness, disease, and cancer.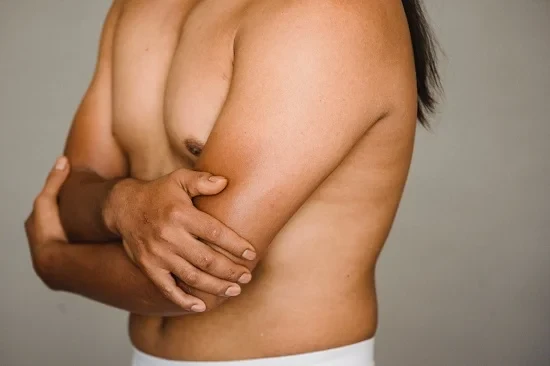 How Do I Find Man Boob Surgeons Near Me?
If you live in Los Angeles, California, call the Gynecomastia Center of Los Angeles. Dr. Moein and his professional staff offer compassionate care for all types of men gyno. Whether you are the parent of a teen boy or you wish to alleviate your own breast growth, we have an appointment time ready for you.
Get started with a video chat before scheduling an in-person meeting. All discussions are 100% confidential. Call us now at +1-310-956-4326!