Gynecomastia treatment with VASER Liposuction and Renuvion J-Plasma (VASER & J-Plasma Renuvion technology) is the minimally invasive, non-surgical method for getting a flatter, more symmetrical chest. Ask gynecomastia surgeon, Dr. Babak Moein about VASER & J-Plasma Renuvion today!
Treatment With VASER Liposuction & J-Plasma Technology (Renuvion)
You may have heard about liposuction to treat gynecomastia, which is the growth of male breast tissue. Liposuction extracts fat after it is emulsified using a specialized solution. Gynecomastia tends to respond very well to liposuction. The traditional method of extracting fat is limited, however, by its ability to target specific areas.
Liposuction also cannot treat skin laxity, which causes the male chest to droop and sag, giving the appearance of man boobs. Enter VASER & J-Plasma Renuvion, two new technologies that are taking the cosmetic surgery world by storm. Both procedures can be performed with local or general anesthesia and involve tiny incisions that become near-invisible once healed. Here's how they work.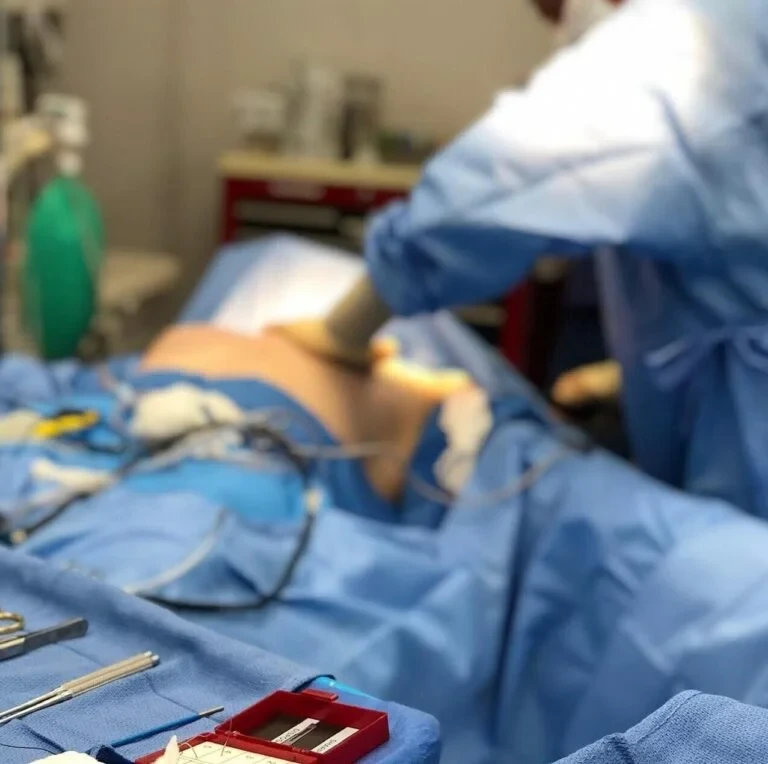 VASER Lipo melts fat just like the chemical solution used in liposuction. The procedure only targets and works on fat, leaving the surrounding tissue, like skin and connective fibers, alone. The fat is then suctioned away by a thin plastic cannula, which allows the doctor to target super fine areas. This is what allows VASER Lipo to give patients that ripped and toned appearance.
VASER can even give some patients a six-pack when used on the abdomen. In cases of gynecomastia, VASER is excellent at getting to the fat and glandular tissue that resides behind the nipple and around the chest, giving a flatter appearance.
VASER Liposuction uses sound energy, so it is 100% safe to use for cosmetic body contouring. When used on gynecomastia, the procedure has been known to reduce blood loss and cause less discomfort than traditional liposuction.
How Much Does VASER Liposuction Cost?
VASER Lipo costs around $6,500 on average. The procedure is more advanced than liposuction, which comes to around $3,500 by comparison. VASER can target hard-to-reach cases and is good for targeting stubborn pockets of fat, such as those associated with male breast growth.
"Wait, There's Renuvion Near Me?"
If you live in or near Los Angeles, you may have known about Renuvion, which is available locally at the Gynecomastia Center of Los Angeles. This revolutionary technology uses J-Plasma technology, which is a combination of helium and radiofrequency energy. This high-intensity blast of energy tightens the skin and improves skin health.
The procedure can be combined with liposuction to rid your chest of fat and make the skin look tighter and firmer.
Is J Plasma Renuvion Safe?
Yes! J-Plasma technology is FDA-approved for cosmetic body contouring. The technology works well on all types of gynecomastia, especially where skin sagging is present. Saggy skin often occurs in older men with gyno, since skin laxity can become a problem with age. J-Plasma improves skin laxity, improving the appearance of the male chest.
How Much Does Renuvion (J Plasma) Skin Tightening Cost?
The average cost of Renuvion is $5,000 to $8,000, depending on the severity of your gynecomastia condition. There are services available to help you pay for gyno treatment, such as Prospect Healthcare Lending and CareCredit, which come with low monthly payments for your convenience.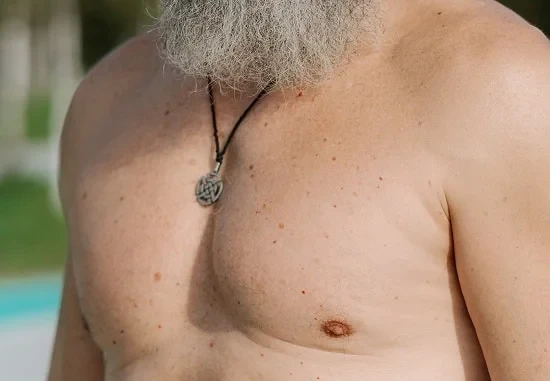 How is the J Plasma Gynecomastia Treatment?
After being prepped for the procedure, you will be sedated through local or general anesthesia. Your gynecomastia specialist will make tiny incisions that act as entry points for a cannula, which is a thin plastic tube used to suction out the fat. Liposuction will be used to remove the fat on and around the chest.
The Renuvion J-Plasma device is placed in the same entry points, so no new incisions need to be made. The handheld instrument releases helium gas that is heated to its plasma phase. The surgeon then directs the device at the connective tissue under the skin. The treatment area and tissues within are heated to a temperature of 85 degrees Celsius for a very short period of time (0.04 seconds, to be exact). The results are instant. You will notice an immediate shrinking and tightening of the skin and the outside surface of the skin will usually take on a healthier glow.
The procedure comes with little discomfort or downtime, so recovery from Renuvion should be a breeze. That leaves you to enjoy your new flatter and much younger-looking chest, thanks to VASER & J-Plasma Renuvion Gynecomastia Treatment  In & Near Los Angeles.
Get Vaser & J-Plasma Gynecomastia Treatment In & Near Los Angeles
Gynecomastia may feel like a cosmetic problem, but it can cause serious self-esteem issues. You may even feel tenderness or pain. Whether you feel embarrassed or would merely like to wear shirts without your puffy nipples and breast growth showing through, you owe it to yourself to seek gyno treatment like VASER & J-Plasma Renuvion.
At the Gynecomastia Center of Los Angeles, Dr. Babak Moeinolmolki (Dr. Moein) and his surgical staff are ready to help you. The center specializes in VASER & J-Plasma Renuvion technology and in male breast growth of all types.
From normal gynecomastia and bodybuilder's gyno to the cases that affect teenagers and older men and VASER & J-Plasma Renuvion, Dr. Moein can help all boys and men achieve a more normalized chest. Get started on VASER & J-Plasma Renuvion technology today.
Call the Gynecomastia Center of Los Angeles at +1-310-905-5763 to schedule a VASER & J-Plasma Renuvion technology consultation. The first consultation is via video chat for your safety and convenience. Dr. Moein and his staff look forward to treating your men gyno with VASER & J-Plasma Renuvion.