Learn when to shape the chest after Gynecomastia surgery and how Gynecomastia (male breast reduction surgery) is one of the most popular cosmetic surgeries for men. The procedure is also associated with a high degree of satisfaction. One particular study showed that 92.6% of patients were satisfied with their newly configured chests.
The affliction that gives men female-like breasts negatively affects the lives of 65% of men aged 27 to 92, according to statistics by the National Institutes of Health (NIH).
The condition is caused by higher-than-normal estrogen levels in the body. This fluctuation of sex hormones can occur during puberty, but there are other causes too. Underlying conditions, obesity, some medications, essential oils like tea tree oil, illicit drug use, and steroid abuse round out the list of culprits for the combination of breast tissue growth and excess fat that is sometimes referred to as "man-boobs."
A common question patients ask during the initial consultation with a gynecomastia specialist is, "How do I shape the chest after Gynecomastia surgery?" These patients have spent so long suffering from the embarrassment of having male breasts that they are desperate for masculine contours and to shape the chest after Gynecomastia surgery.
What Does Gynecomastia Surgery Entail?
Gynecomastia takes around two hours to complete and is conducted under general anesthesia. You will fall asleep dreaming of the ideal chest only to wake up to your intended reality.
Gynecomastia surgery is customizable depending on the grade of gynecomastia you suffer from. There are four grades of male gyno that range from mild to severe. At its mildest form, a slight protrusion of the male breast is noticeable. At the severe end of the spectrum, the chest can extend beyond the borders of the chest. Grade four also more closely resembles female mammary glands.
In cases where the condition is primarily caused by excess fatty tissue, liposuction will be used to contour and shape the chest after Gynecomastia surgery. Several small incisions are made before a cannula wand is inserted. A cannula is a thin hollow tube that suctions out the fat.
A majority of gynecomastia conditions are caused by excess glandular growth. Excision techniques are used where glandular tissue and excess skin need to be removed to correct gynecomastia. In some cases, the areola/nipple will be repositioned and resized to create a more symmetrical contour.
The surgery is considered minimally invasive and comes with a low chance of risks.
What is the Ideal Chest Shape for Men?
It's difficult to feel manly when breasts are showing through your shirt. And given that men are accustomed to removing their shirts during certain activities like sports and swimming, you can imagine how embarrassing it can be for someone with feminized breast tissue.
Gynecomastia surgery strives to give you the ideal male chest. But what does that look like exactly?
In the book Plastic and Cosmetic Surgery of the Male Breast, edited by Adriana Cordova, Allesandro Innocenti, Francesca Toia, and Massimiliano Tripoli, the ideal male chest is described as such: "All men can be classified as a rectangle, an oval, a triangle, a rhomboid, or an inverted triangle. In the last 2 decades, a near-universal sexually attractive feature of a man is a V-shaped or inverted triangle torso; a relatively narrow waist offset with broad shoulders."
The book The Male Breast: What You Should Know About Gynecomastia by Sreekar Harinatha gets a bit more descriptive. "The first thing that one should understand is that the "ideal" chest is not flat. There is a defined contour, a slight bulge and a natural fold just below the chest where the abdomen begins.
The chest fold is predominantly horizontal. This horizontal line tends to round out and increases with the varying degrees of gynecomastia."
Harinatha provides a visual aid to display the ideal male chest.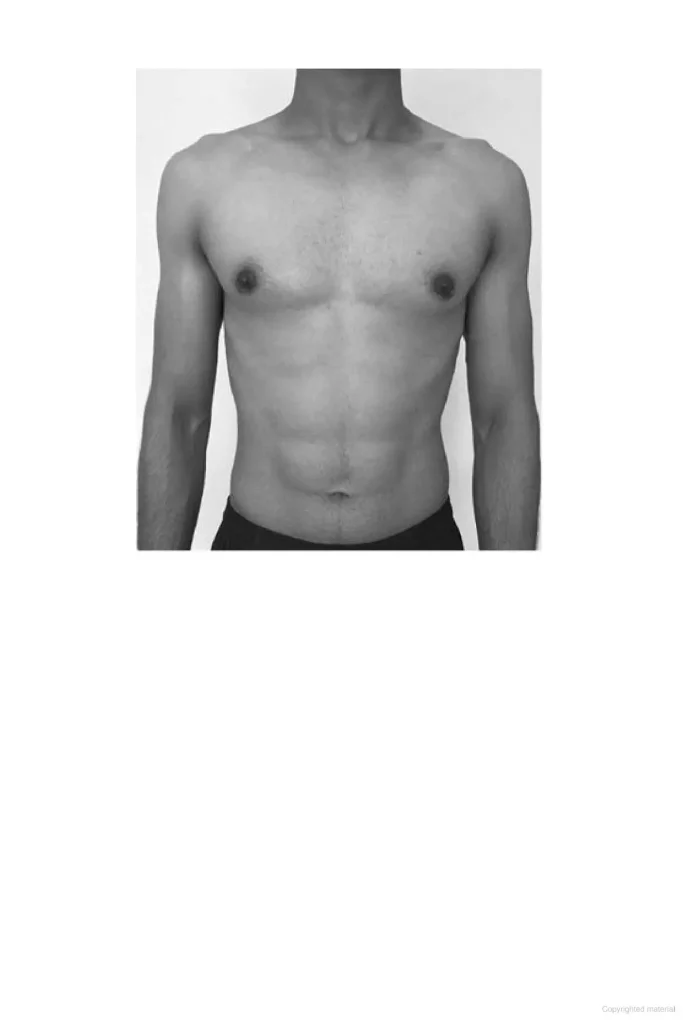 During male breast reduction surgery, gynecomastia doctors use a combination of glandular tissue removal and liposuction to create the ideal chest. If the breasts are exceptionally large, excess skin removal may be a component of the surgery as well. The surgeon is not only cutting tissue away. Using a mix of skill and artistic acumen, the surgeon essentially molds your chest like an artist creating the perfect chest out of a block of clay.
Shape the Chest After Gynecomastia Starts with Gynecomastia Recovery
When you wake up from surgery, some results of the procedure will be immediately noticeable. There will be swelling and bruising present, which will subside in a few days. Your surgeon has molded and shape the chest after Gynecomastia surgery. You can further improve your chest by going to the gym and shape the chest after Gynecomastia surgery. He can also advice you to preserve the changes made during the procedure, by heeding your surgeon's advice for a speedy recovery.
• Wear Your Compression Vest
Your surgeon will ask that you wear a compression vest 24 hours per day for 2 weeks, then 12 hours for 2 to 3 weeks. This surgical recovery vest serves 2 important roles. Wearing the vest improves circulation and speeds up healing.
The compression also preserves and shape the chest after Gynecomastia surgery contours, which is the first step in shaping your chest following the procedure. You are also recommended to rest for at least 24 hours after surgery.
• Eat Healthily
As you recover from surgery, you may find it too painful to swallow solid foods for at least a few days. Your doctor will recommend that you eat soft foods like soup, Jell-O, pudding, milkshakes, and smoothies.
As your ability to eat solid foods improves, add plenty of fresh fruits, vegetables, and lean protein sources. Stay away from salty foods, which can dehydrate you.
Speaking of hydration…
• Stay Hydrated
Drink plenty of water during your recovery to keep your body healthy. Strive for 64 ounces of water per day (eight 8-ounce glasses). You can also drink non-carbonated beverages like fruit juices. You will know you are consuming enough liquids when you find yourself urinating at least a few times per day.
• Avoid Bad Habits
If shaping your chest after gynecomastia surgery is important to you, stay away from any behavior that can slow healing and skew your results. Smoking and drinking alcohol qualify as behaviors that should be avoided for at least a few weeks. Your body will heal faster without these substances in your body.
• Engage in Proper Wound Care
The day after surgery you may have some fluid leakage. If this happens, apply new sterile gauze by following your gynecomastia surgeon's post-surgery instructions.
• Avoid Showers for a Few Days
As part of wound care, stay out of the shower for at least a few days. You should also avoid hot baths, saunas, and swimming for at least 2 weeks.
• Sleep on Your Stomach
Though it may seem counterintuitive, sleep on your stomach on the first night home from surgery. Keeping your chest pointed at the ground helps to relieve swelling, stops bleeding in case of hemorrhage, and aids in faster recovery.
• Practice Light Stretching
Engaging in light activity can help your body recover faster. Light stretches like yoga can keep your body active without overdoing it. Walking is another form of exercise and to shape the chest after Gynecomastia that is highly encouraged. Massaging the chest with a massage gun or your fingers can help to contour and shape the chest after Gynecomastia surgery. Scar Massaging can also help to manage any lingering scar tissue.
• Have Faith
As your body heals, you may notice asymmetry, lumps, swelling, and bruising around your chest. This is normal and temporary. If you follow the above advice, your chest will retain the new masculine contours.
• Increase Exercise After 3 Days
Once 3 days have passed, you can take a shower and return to sedentary jobs. You are also encouraged to slightly increase your level of exertion, which can include walking and slow running.
• Engage in Strength Training After 2 Weeks
The best way to shape the chest after gynecomastia surgery is to build muscle and lose fat. After 2 weeks, you can engage in stronger exercises and shape the chest after Gynecomastia, such as swimming, running, and pushups.
• Increase Strength Training Volume After 3 Weeks
In 3 weeks, you will be ready to hit the gym and start to shape the chest after Gynecomastia. By this point, your chest should be fully healed. If you want a masculine chest that you can be proud of, focus on heavy lifting with exercises to shape the chest after Gynecomastia surgery necessary for building chest muscle strength and volume, such as chest presses and chest flyes.
Of course, if you don't feel like sweating in the gym and start to shape the chest after Gynecomastia, you can always inquire about pectoral implant surgery from a reputed cosmetic surgeon. Building muscle is healthier, however, and you'll look and feel better after attaining your goals following such hard work.
What Do the Results of Surgery Look Like?
Surgery enhances your appearance and self-esteem. However, it cannot help if you have unrealistic expectations for what gyno surgery can do. During your initial consultation, you and the surgeon will discuss the realistic results you can expect. Before you decide to have surgery, you must think carefully about your expectations for the surgical procedure.
Feel free to discuss these unfiltered with your gynecomastia surgeon. It is realistic to expect a more masculine chest contour following male breast reduction surgery. The results of a gynecomastia procedure are permanent. They are also significant. If your expectations are realistic, such as the results of surgery shown in the image, chances are good that you will be extremely satisfied with your newly configured chest and start to shape the chest after Gynecomastia.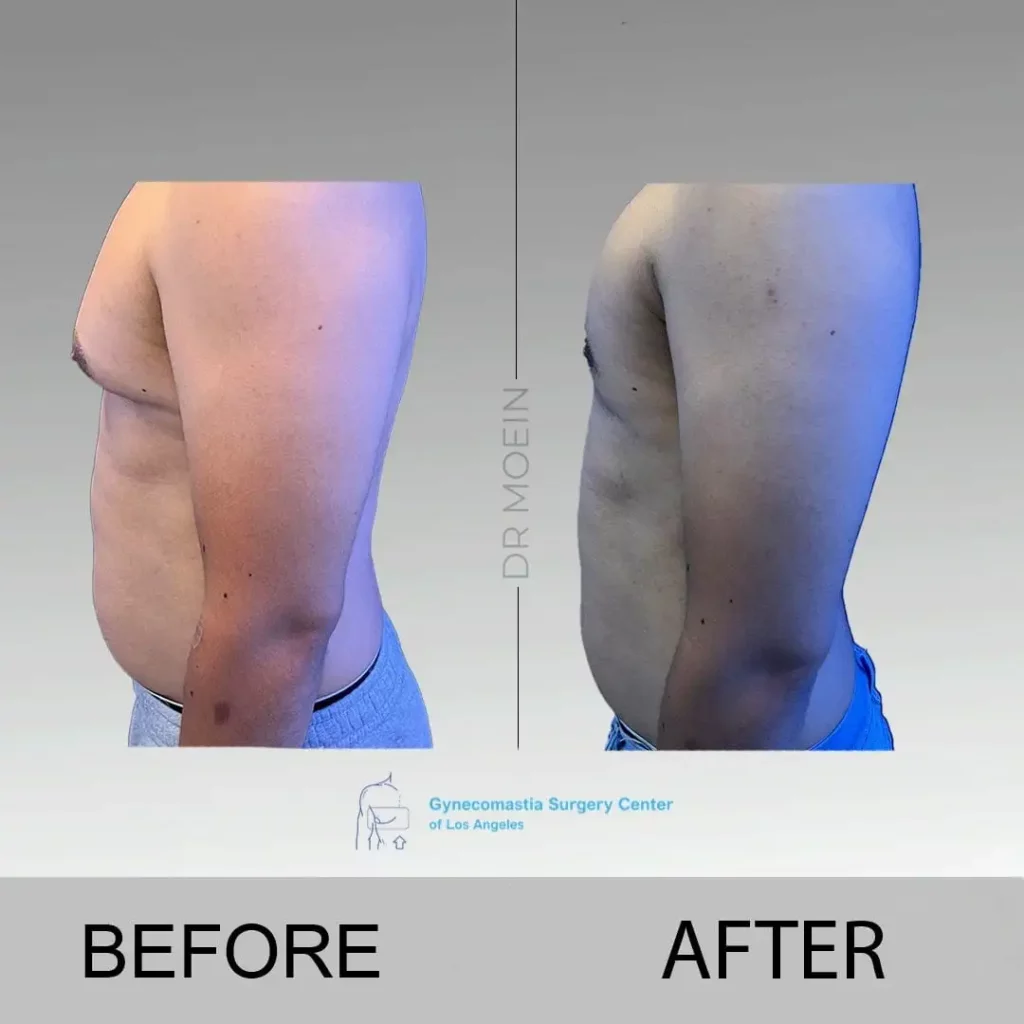 How Much Does Gynecomastia Surgery Cost?
The average cost of gynecomastia surgery is $4,239, according to the American Society of Plastic Surgeons.
If that sounds expensive, consider the following. Many gynecomastia sufferers spend money on clothing intent on hiding their swollen breast tissue.
You could spend loads of money on clothing to camouflage your male breasts, or you can choose the one-time expenditure to take care of the problem once and for all.
Are You Ready to Free Yourself of Gynecomastia Permanently?
Don't be afraid to have surgery. In the book Male Aesthetic Plastic Surgery by D.S. Steinbrech, the stigma of male cosmetic surgery is discussed. "Aesthetic surgery has long been considered a female endeavor.
Most, if not all, of the marketing had been focused on women (think Botox cosmetic, breast augmentation, and Brazilian butt lifts). D.S. goes on to say, "With waxed chests, self-tanner, and copious amounts of Rogaine along the way, American men are looking into even more drastic ways to improve their appearance."
The prospect of undergoing surgery can make anyone nervous. But imagine feeling pride for your chest as opposed to embarrassment. Imagine having no qualms about stripping off your shirt before swimming or an intimate encounter. In fact, gynecomastia surgery has such a high rate of satisfaction that you may not feel like wearing a shirt at all once your chest is fully healed.
The biggest struggle you may face after surgery is trying not to grow a big head because of how attractive your chest becomes.
C. Joybell C. once said, "You will find that it is necessary to let things go; simply for the reason that they are heavy." Male breasts are heavy. Go ahead and let them go. You can do so by scheduling a gynecomastia consultation with a qualified
gynecomastia surgeon
near you today.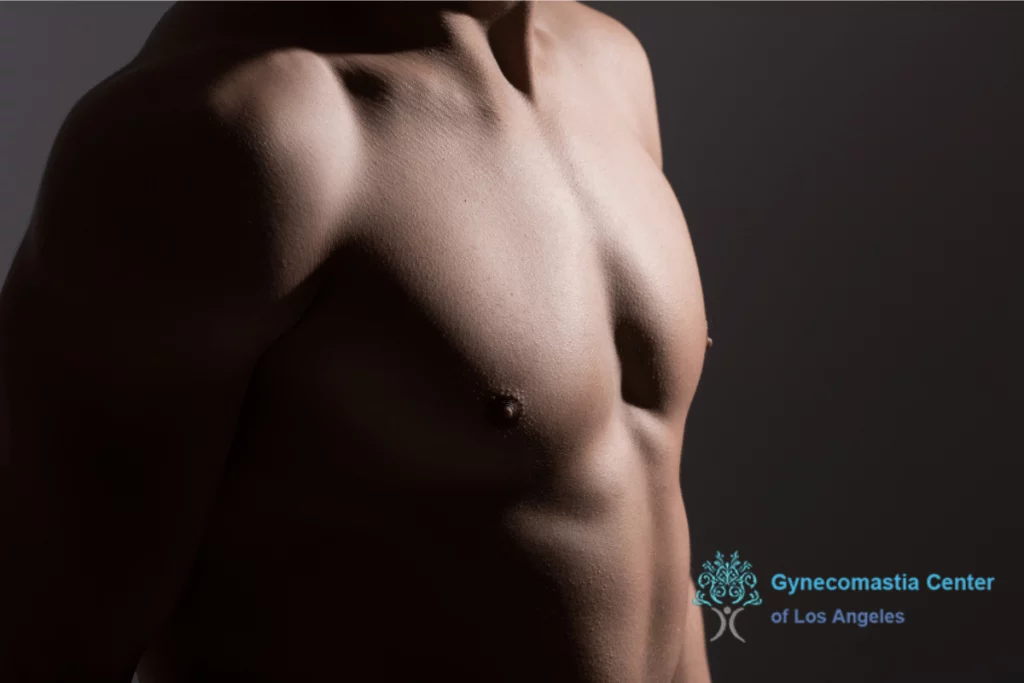 As one gynecomastia patient reported, "I am totally satisfied. I can see a difference in the photos before and after. The whole experience helped me with my self-confidence, so I wouldn't hesitate to do it again."
If you are interested in learning more about when to shape the chest after gynecomastia surgery, and if you want to know if you are a suitable candidate for the procedure, call the Gynecomastia Surgery Center of Los Angeles. Doctor Moeinolmolki is a specialist in chest masculinization surgery, and he looks forward to helping you.
Doctor Moein even helps out-of-town patients, which alleviates the need to randomly Google "Help with gynecomastia near me." Book your discrete consultation with world-renowned gynecomastia specialist Doctor Moeinolmolki by filling the form below or dialing 310-956-4326.